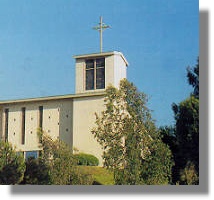 We are privileged to be sponsored by Saint Bartholomew's Episcopal Church, located in Poway, California.
The church was established as an organized mission church in 1960. The first service on February 28, 1960 was evening prayer in the old Poway News building (now the Hamburger Factory). After several location moves, St. Bart's rented two storefronts in Old Poway in 1962.
In 1968 St. Bart's moved to the current location on five acres in north Poway. Services were first held in what is now the Parish Hall. A major milestone was achieved on March 17, 1975 when St. Bart's became a parish church. The present sanctuary was dedicated five years later.